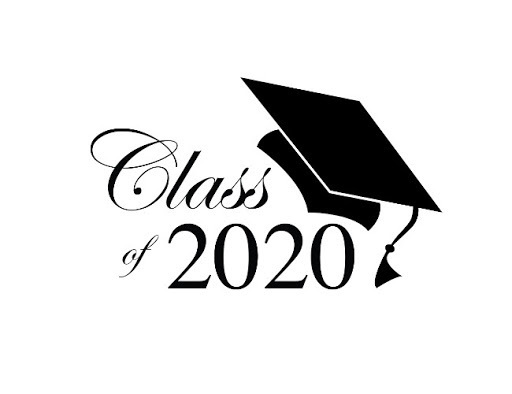 Senior Graduation Letter
Rose Clark
Monday, May 11, 2020
May 7, 2020
Dear Seniors, Parents and Guardians:
This letter is to keep you informed about the dates and times of the following:
●Cap and gown pick-up (Thursday May 21st, 1-4 pm).
●Diploma/Yearbook distribution (Wednesday May 27, 1-7 pm; Thursday May 28, 2-7 pm; Friday May 29, 1-7 pm).
NOTE: PLEASE READ THIS ENTIRE DOCUMENT FOR IMPORTANT CLARIFICATION OF PROCEDURES.
As many already know, due to state mandates and social distancing, our schools have been closed. This means that the traditional class night, graduation, and other senior functions have been cancelled. However, a team of teachers, administrators and community members have been meeting and discussing ways to honor our seniors of the class of 2020 during these difficult times.
Each senior earning a diploma will receive their diploma, but we encourage all students to participate in this year's diploma distribution, so that all students will be a part of their virtual graduation. This will include a picture of each senior in their cap and gown holding their diploma. This will also include speeches, awards, scholarships, and other mentions of honor.
Diploma Distribution (May 27- 29):
Dressing in one's cap and gown and picking up one's diploma at the school is not only a part of the virtual graduation, but we wish for our seniors to step into the school one more time—to feel welcome—and to say farewell to the years they spent with our faculty, the building and grounds, and their classmates. It's important to our team for our seniors to have closure during this time.
The senior team has planned for the seniors to receive their diplomas at Mattanawcook Academy's gymnasium on the following dates: May 27-29. Maine CDC requirements for group gatherings will be followed. The maximum number of people that can gather in a group is ten (10). Those entering the school must either practice social distancing measures by remaining six (6) feet apart or masks can be worn by all in attendance. Note: Seniors will remove their masks for the photo only, and then place their masks back on until leaving the building.
NOTE: MASKS AND PROTECTIVE GEAR WILL NOT BE PROVIDED BY THE SCHOOL. ATTENDEES MUST BRING MASKS UNLESS SOCIAL DISTANCING MEASURES ARE FOLLOWED.
The plan is as follows:
● Cap and gown distribution, returning of school materials (books, calculators, etc.) and scheduling a time to receive diplomas will take place on Thursday, May 21st from 1-4pm. Accommodations can be made for those who cannot make the scheduled times. Tables will be set up in front of the gym doors for distribution and drop off. Payment for caps and gowns is covered by senior funds.
● Times will be scheduled on the 21st for the week of May 27-29 for each senior and their family members (parents, siblings, grandparents) to receive their diploma.
● The Superintendent, Principal and photographer will be present to award diplomas and take pictures/videos, leaving a total of 6 family members plus the graduate allowed to attend.
● The gym will be set up for a regular graduation ceremony with the exception of the bleachers and chairs.
● Students must arrive in their cap and gown at their designated time accompanied by their immediate family, as defined above. No other guests will be admitted.
● The graduate's diploma will be placed on a table on the stage for the graduate to pick up, and they will have an opportunity for picture taking. A school photographer will take a video/picture to be used in our virtual graduation to be shared at a later time.
● As a memento, Class Night and Graduation programs will be available for students upon leaving the gym.
DIPLOMA DISTRIBUTION DRESS REQUIREMENTS:
We ask that the traditional dress code be followed when students enter the school to pick up their diplomas since pictures will be used in our virtual graduation. The dress code is as follows:
CAP AND GOWN: IT IS VERY IMPORTANT THAT YOUR CAP AND GOWN DO NOT GET WET. THEY WILL STAIN. If there are wrinkles in your cap and gown, hang it on the door of the bathroom and allow the hot water to run, and the steam will lift the wrinkles. DO NOT USE AN IRON. If it is raining, make sure you cover up your cap and gown. To press them, use a press cloth and cool iron or hang in the bathroom when the shower is being used. DO NOT GET THEM WET!
BOYS - shirt, tie, slacks, dark socks and shoes - PLEASE DO NOT WEAR THE FOLLOWING: SNEAKERS, SHORTS, JEANS, WORK BOOTS, T-SHIRTS, SANDALS
GIRLS - lightweight dress, blouse and skirt, split skirts, dress shoes, dress sandals - PLEASE DO NOT WEAR THE FOLLOWING: SNEAKERS, JEANS, PANTS, SHORTS, T-SHIRTS, CAPRI'S
PLEASE NOTE: IF YOU DO NOT HAVE THE APPROPRIATE ATTIRE, PLEASE EMAIL MR. TILTON AND LET HIM KNOW PRIOR TO CAP AND GOWN PICK UP; WE HAVE THE MEANS TO ACCOMMODATE YOUR NEEDS.
Individual Diploma Portrait:
Local photographers have provided their time and digital pictures for free. Picture Order forms will be available on the day of the diploma distribution for those families or students who desire prints. A DIGITAL PICTURE OF YOU RECEIVING YOUR DIPLOMA WILL BE TAKEN ON STAGE AND PROVIDED TO YOU AT NO COST. Additional pictures will be taken outside before departure. If you want a formal, print picture of you in your cap and gown, this picture is at your own expense.
Tassels should be placed on the left side of the cap for the photo in the gym. If desired, seniors may have a picture taken outside with their tassels to the right or wait to view the virtual graduation for their own private ceremony.
Recognizing our Seniors:
Signs - We are in the process of having 24"x 18" lawn signs created for every graduating senior with the portrait photo they submitted for the yearbook. They will be given to the students/family to display in their yard or any other way they see fit, on May 21st with cap and gown pick up.
Yearbooks - We decided to use a portion of the senior account to purchase one yearbook for EVERYONE in the senior class. If you already paid for one, you will be getting a refund of up to $50. Any personalized additions you ordered for your book will not be refunded (out of fairness), but the base cost will be completely refunded. Yearbooks will be distributed with diplomas the week of May 27-29.
Future Gathering: We are considering the options for a future gathering for seniors; however, dates are uncertain at this time due to continuing measures by our state.
Additional Funds: The group is continuing to discuss the use of remaining funds and considering feedback.
Welcome to Lincoln Sign: Be sure to visit the Welcome to Lincoln sign off the Access Road that is recognizing our seniors!
Although traditional ceremonies cannot be held in person, we hope that this plan recognizes this graduating class of 2020 and provides you with the honor and closure you all deserve. You have been a wonderful class. We wish you well with your future endeavors, and you will all be missed.
Sincerely,
The Mattanawcook Academy Graduation Committee
Contact Sara Knowles (sknowles@rsu67.org), Sarah Krause (skrause@rsu67.org), or Raymond Tilton (rayt@rsu67.org) with any questions.