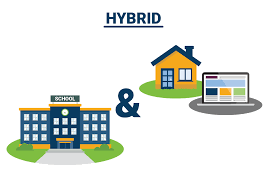 HYBRID MODEL (YELLOW)

Hybrid model. If we are using the HYBRID MODEL only half of our students will attend in person. Below is the color days your child(ren) are following.
Blue Days (In person Monday and Tuesday, remote Wednesday, Thursday, and Friday): McCarthy, Crockett, Edwards, Olsen, Murchison, Hallett, Gardner, Stevens, Thornton.
White Days (In person Wednesday and Thursday and remote Monday, Tuesday, and Friday): Harper, Larlee, Peters, Croce, Cuccinello, Sherman, Himes, Brawn, Manzo, Tolman.