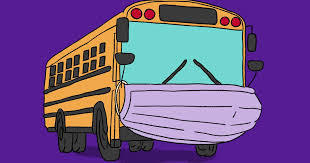 Transportation (Bus) Information Letter 8-18-2020
Rose Clark
Tuesday, August 18, 2020
August 18, 2020
Dear Parents and Guardians:

Our Transportation Department is busily planning the bus routes for the 2020-2021 school year. In order to transport students safely during COVID-19, there are many new guidelines we must adhere to:
 Drivers and all students are required to wear face coverings at all times.
 Limited contact will occur between the driver and students and/or parents.
 Hand washing or use of sanitizing gel is required before entering and after exiting the bus.
 Several windows will be slightly opened to improve air ventilation.
 Six (6) foot distance will be maintained wherever possible.
 Students will be seated one student per seat with the seat behind the driver open. Families can sit together.
 Physical distancing is maintained when exiting the bus.
 High touch areas are disinfected between runs.
 Buses are thoroughly disinfected daily.
In order to meet these requirements, fewer students will be transported on each bus run. Our Transportation Department is in the process of assigning bus routes for students to and from home. If you would like to request a regular alternative drop-off or pick-up location for your child(ren), please complete the "Request for Alternative Bus Transportation" form as soon as possible and return it to the school secretary. This form can be found under "Parents and Students" section of the website.
The Transportation Department will do their best to work with families, but please understand that due to the strict guidelines, alternate bus transportation is not guaranteed.
Changes requested during the day once school begins cannot be honored at this time. We are committed to working with our families to transport students to and from school safely.
Thank you for your support and understanding during these difficult times.
Sincerely,

Jean Skorapa, Superintendent of Schools