We are currently experiencing difficulties with our phones. MA and MJHS phones are not working at this time. We are working with our provider to fix it as quickly as possible. We are also working on a long-term solution. If you need assistance, please call the RSU 67 District Office at 794-6500 or email the individual directly. We appreciate your understanding in this matter and will update you when we have more information.

IT ALL STARTS WITH VISION Superintendent's Corner – August 7, 2023 Greeting RSU 67 staff, families, students, and community members: In just over 3 weeks from today, the doors of Ella P. Burr, Mattanawcook Junior High School, and Mattanawcook Academy will again open to students and families, signaling the official start of the 2023-2024 school. I hope that you have all had a fantastic summer. While schools have been closed since the middle of June, it has been a very busy summer. For the new school year, you will find many improvements around the district which include a newly paved parking lot and entrance to Mattanawcook Academy, new heating units in both Ella P. Burr and Mattanawcook Junior High School, updated tile floors at Mattanawcook Academy, expanded playground fencing behind Ella P. Burr, and fully refurbished wood floors on the top floor of Mattanawcook Junior High School. The District Office has officially relocated to 25 Airport Road in Lincoln, and by the end of this week, we hope to have the two large District Office portables that are next to Ella P. Burr removed from the property. This will eventually allow us to expand the playground, entrance, and parking lot near the back side of the school. Finally, as the new year begins, several new staff members have joined the district over the spring and summer and they are excited to begin working with you. With all the improvements to our facilities and the addition of several outstanding new staff members, it is going to be a wonderful school year. As we prepare for the opening of schools, I am especially excited about the implementation of our new strategic plan that was approved and adopted by the School Board last spring. This strategic plan was developed by teachers, administrators, community members, and members of the School Board, utilizing input that we received from RSU No. 67 students, families, parents, staff, and community members. Our strategic plan represents a roadmap to the future, anchored by a new district vision: "RSU No. 67 strives to excite and inspire learning through a rigorous, relevant, and future-focused curriculum that empowers students to be active participants, critical thinkers, and problem solvers who are well prepared to pursue their aspiration." The 2023-2024 school year will start with vision and we are excited to begin the work with all of you. The first day of school is just around the corner with grades PreK – 9 starting on Wednesday, August 30th, and then all students attending on Thursday, August 31st. We hope that you and your families are able to enjoy these last few weeks of summer to the fullest. We hope to see you all very soon! Until next time… Paul Austin Superintendent of Schools

The phones at the District Office are temporarily disabled due to the move. If you need to contact anyone who works at the office, please email them directly. You may call Mattanawcook Academy or Mattanawcook Junior High, Monday through Thursday 8 am to noon if you are unable to send an email. We will keep you posted when the phones are working again. A reminder the office is closed Monday, July 10- July 12. We anticipate everything being operational by July 13th.

June 12, 2023 Greetings staff, students, families, and RSV No. 67 communities, It has been a great year in RSU No. 67 and much has been accomplished. To name just a few things, we updated our safety and security plans, fully reviewed building safety, established a School Resource Officer program, completed a full revision of the scope and sequence of our curriculum, completed a 5-year strategic plan, and began significant facilities heating and ventilation upgrades. It has been a busy year and I am incredibly proud of how hard our students, staff, faculty, and administration have worked to move the district forward. We have amazing students, an engaged community, and outstanding support staff, faculty, and administrators. I am immensely proud to be part of this district and the work we are doing to provide every student with the very best education possible. Despite all that has been accomplished this year, we know there is still a lot of work ahead of us. To implement our newly developed strategic plan, we have set lofty goals and we have high expectations. As we look to the 2023-2024 school year, we will continue to highlight the importance of safe and secure schools, and we are committed to improving student academic outcomes through a rigorous and relevant curriculum. We have expanded our full-day/full-year Pre-K program to ensure that all 4-year-olds who reside in Chester, Lincoln, or Mattawamkeag have access to high-quality Pre-K programming, and we will offer "Jobs for Maine's Graduates (JMG)" program to students at Mattanawcook Academy. Through the use of federal funds, the district hopes to complete a new multi-purpose court at Mattanawcook Academy, and we will continue substantial upgrades of the heating and ventilation systems at all three schools in the district. We are excited about the year ahead, but we recognize that none of this is possible without your support. Tomorrow, Tuesday, June 13th, is the scheduled District Budget Validation Vote. Polls are open at Mattanawcook Academy from 8 am to 8 pm and at the Chester and Mattawamkeag town offices from 8 am to 6 pm. If you reside in one of these three towns and are able, I ask that you please vote tomorrow. In order to meet our contractual obligations and to provide services to our students, the 2023-2024 RSU No. 67 budget will increase by 3.7% this year. However, with increased state support and by using a portion of our undesignated fund balance, the district is requesting less funding from each of the towns of Chester, Lincoln, and Mattawamkeag. This means that we are asking for fewer local tax dollars from taxpayers. In addition to voting on the proposed 2023-2024 budget tomorrow, voters will also be asked if they wish to continue the budget validation referendum for the next three years. A yes vote means that the current process of having a budget meeting in May to approve the budget, followed by a validation referendum vote in June will continue. A no vote will mean that the budget will be approved and set at the annual budget meeting in May each year, with no budget validation referendum needed in June. I know people are busy, but voting takes just a few minutes and I ask that you please come out to vote tomorrow. Your voice matters and everyone here at RSU No. 67 sincerely appreciates your support! Respectfully, Paul Austin, Superintendent of Schools

On May 9, RSU 67 choral students in grades 6-12 participated in an afterschool vocal workshop with the Maine Steiners acapella group. Students got to learn about vocal arrangements and practiced with the group.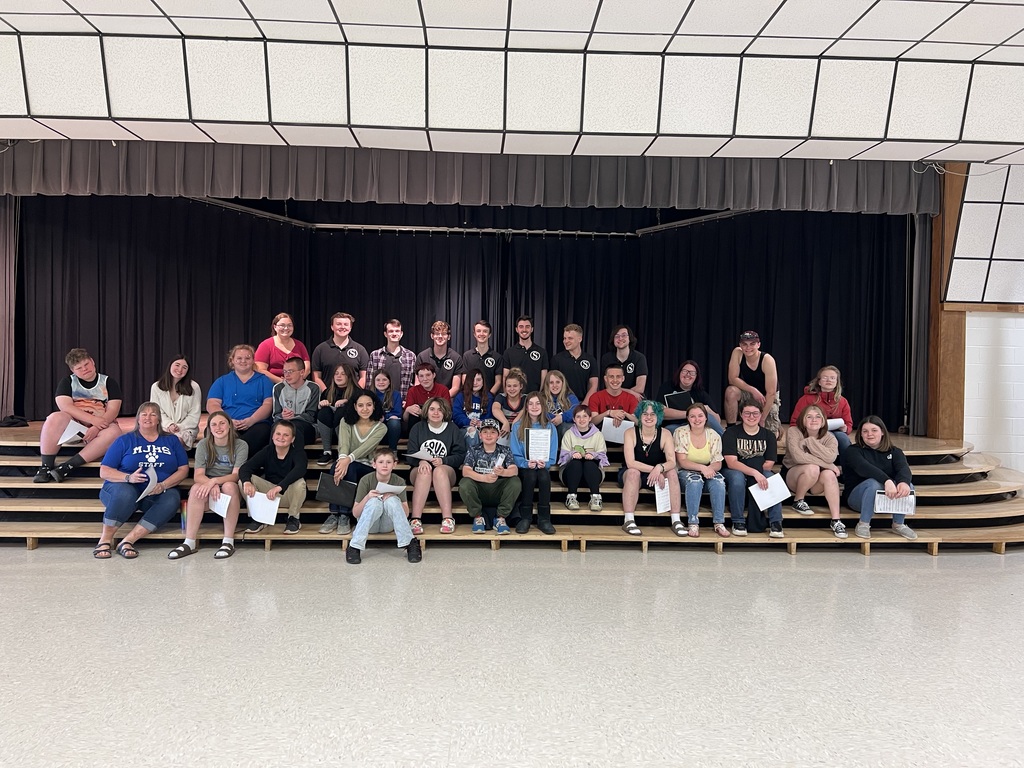 ​Throughout my life, I have had so many incredible people that have guided, nurtured, and supported me over the years. At the top of this list are the many teachers and staff I had along the way that inspired, encouraged, and taught me that anything was possible if you are willing to work hard enough for it. As we celebrate teacher and staff appreciation week, may we all be reminded of those special educators in our past, and show appreciation for the caring, talented, and dedicated educators of RSU 67 and beyond that serve our children today. Happy Teacher and Staff Appreciation Week! Thank you for all you do to serve the children and communities of RSU 67. You are all the very best!! Paul Austin

Join us for the annual RSU No 67 Health and Wellness fair in the MA cafeteria and gym from 6-7 pm tonight, April 6, 2023. We will have a variety of booths and activities for all ages. All are welcome to attend. We hope to see you there.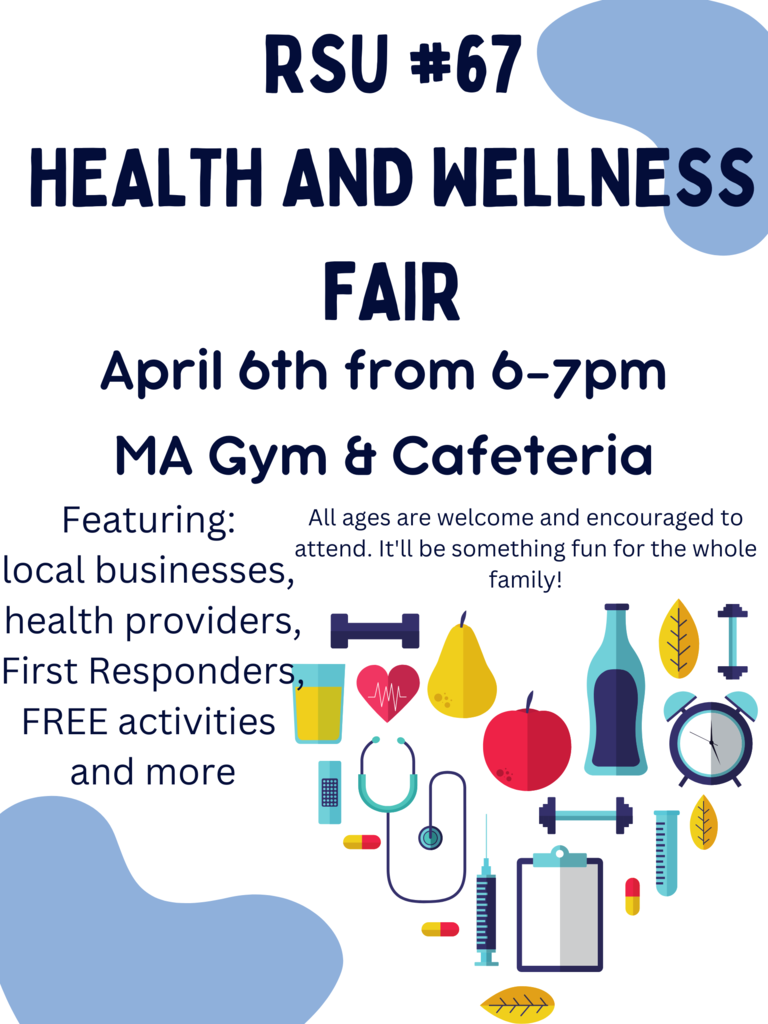 Good morning. With the snow this morning. the roads are a little slippery. Buses may be running a little behind schedule picking students up. Please be patient as we work to get everyone to school safely. Thank you for your understanding and be safe this morning.

ALL AFTER-SCHOOL ACTIVITIES ARE CANCELED FOR TODAY, Tuesday, March 14, 2023

ALL AFTER-SCHOOL ACTIVITIES ARE CANCELED FOR TODAY 2-28-2023 DUE TO THE IMPENDING WEATHER!

Due to the impending weather, the MJHS ski trip on Thursday, February 23, has been canceled. Thank you so much for your understanding.

RSU 67 is closed today, February 17, 2023.

Mattanawcook Academy will be hosting the Class B Wrestling State Championships this Saturday, February 18th. The doors open to the public at 9:00 and matches start at 10:00 am.

Congratulations to the MA Lady Lynx on their preliminary-round basketball playoff win vs Stearns!! The girls will play at the Cross Center next Tuesday, February 21st at 4:00 vs. Central. #GoLynx!!

MJHS students in grades 5-8, along with other area schools, participated in a math meet yesterday at MJHS. Students took two individual tests and a team test as part of the math competition. National Honor Society students from MA helped to score tests. Thank you to all the teachers, staff, and students that helped to make this event a success.

Good afternoon, As we have been hearing for several days, our region is expected to experience extreme cold weather conditions tomorrow (Friday) and Saturday, with possible wind chills of -50 degrees or colder tomorrow afternoon/evening and into Saturday. As a result, RSU No. 67 will have an early release tomorrow at 11AM at all of our schools. As an additional precaution, we will be adding an extra bus in the morning and afternoon to transport students who normally walk to school. Any student seen walking to school will be offered transportation. We will continue to monitor the weather closely and if conditions worsen, please be advised that the early release could change to a full cancellation. All after school activities are cancelled for Friday. A decision for any Saturday activities will be made tomorrow. Thank you for your understanding in this matter. Please be safe tomorrow. Dr. Paul Austin, Superintendent

The MA chorus sang the at the UMaine women's basketball game versus Bryant University last night. A win for UMaine and an awesome trip for MA. MA chorus students took a campus tour and observed and worked with the UMaine University Singers and Mainely Voices prior to the game.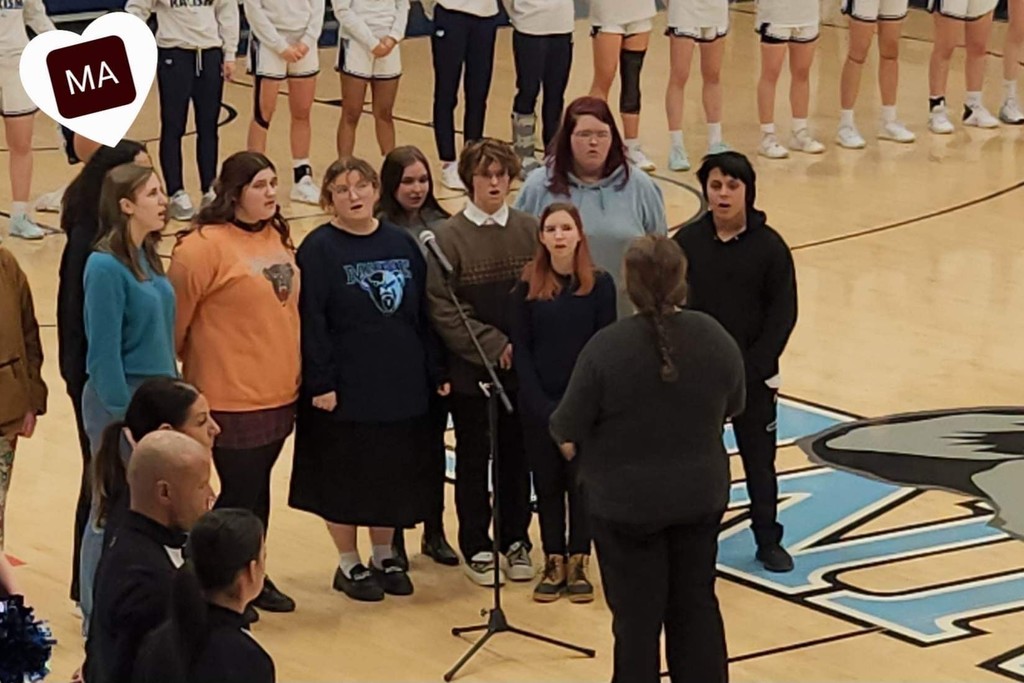 Due to the impending storm overnight and into tomorrow, all schools in RSU No. 67 will be closed, Thursday, January 26, 2023. An all-call will be going out at 3:30 p.m. this afternoon. Thank you for your understanding!

Due to the impending storm overnight and into tomorrow, all schools in RSU No. 67 will be closed on Monday, January 23, 2023.

There is a two-hour delay today, January 17, 2023.