After School Club & Guitar Club have been canceled for today. Cooking Club has been postponed to tomorrow, Jan. 20th for the students who have already signed up.
Today's MJHS girls A team basketball game vs. Ridge View has been postponed until tomorrow at 3:30. The MJHS boys A team basketball game is still on today at 4:45 vs. Warsaw.
In an attempt to reward our junior high basketball teams and their families for a great season we are going to open up the playoff game tomorrow to 4 spectators per player. We will also have some extra tickets available, so if you have more than 4 family members that want to come call the school on Wednesday to get a ticket. We anticipate having enough tickets to accommodate all.
Due to the forecasted storm on Monday 1/17 we are canceling the girls A team practice that day and the cheering practice that day. All other teams were already scheduled for no practice that day. Stay safe!
Here is the much anticipated update for the junior high semi-final basketball schedule. MJHS will be hosting a girls/boys doubleheader on Wednesday, January 19th at 3:30 and 4:45. The games will be played at MJHS. #1 MJHS Girls vs. #4 Ridge View/#5 Warsaw winner at 3:30 #2 MJHS Boys vs. #3 Warsaw boys at 4:45.
MJHS girls and boys A team basketball are hosting Hichborn today at 3:30 (girls) and 4:45 (boys). We do not allow away fans at junior high games. All people must wear a mask. The game will be livestreamed and here is the link:
https://www.youtube.com/channel/UCIp_i_nrS8c90Koy-o4zN3A
We have scheduled an A team girls and boys basketball scrimmage vs. Hichborn for Wednesday, January 12th at MJHS. The girls will play at 3:30 and the boys at 4:45. We do not allow away fans for junior high games. Everyone in the gym must be masked. Also, the boys B team practice scheduled for tomorrow has been canceled.
There is no junior high cheer practice today, Tuesday, January 11th.
Because of today's 2 hour delay the winter sports picture make ups will be moved to tomorrow, Wednesday, January 12th at 8:30 am.
There will be no junior high cheer practice today, Monday, January 10th.
Here is some information for today's A and B basketball games vs. SeDoMoCha. Neither location allows away fans. Both schools are livestreaming the respective games on their youtube channels.
Winter Sports Picture make-ups will now be on Tuesday, January 11th at 8:30 am in the MJHS gym. Make sure you get a picture envelope from the office if you need one.
Due to the photographer being sick, today's winter sports picture make up day has been postponed. It will be made up sometime next week. We will announce the details as soon as we have them.

Parents and Guardians, please look for a pink paper your students are bringing home today providing information about pooled testing. We're asking you to check your response and return the form back to MJHS by January 11th. Each school has a different color survey, and the pink sheets come back to MJHS. Thank you for advising our next steps.
There will be no Junior High Cheer practice today, Tuesday January 4th.
MJHS Winter Sports Picture make up day will be this Wednesday, January 5th at 8:30 AM in the gym. If you missed the original sports picture day and would like to have your picture taken make sure that you bring your order form with you on Wednesday. Online ordering is not available for make-ups.
Here is the activity calendar for the month of January. Please understand there may be changes due to availability, etc. We will update you as soon as possible if something is to change.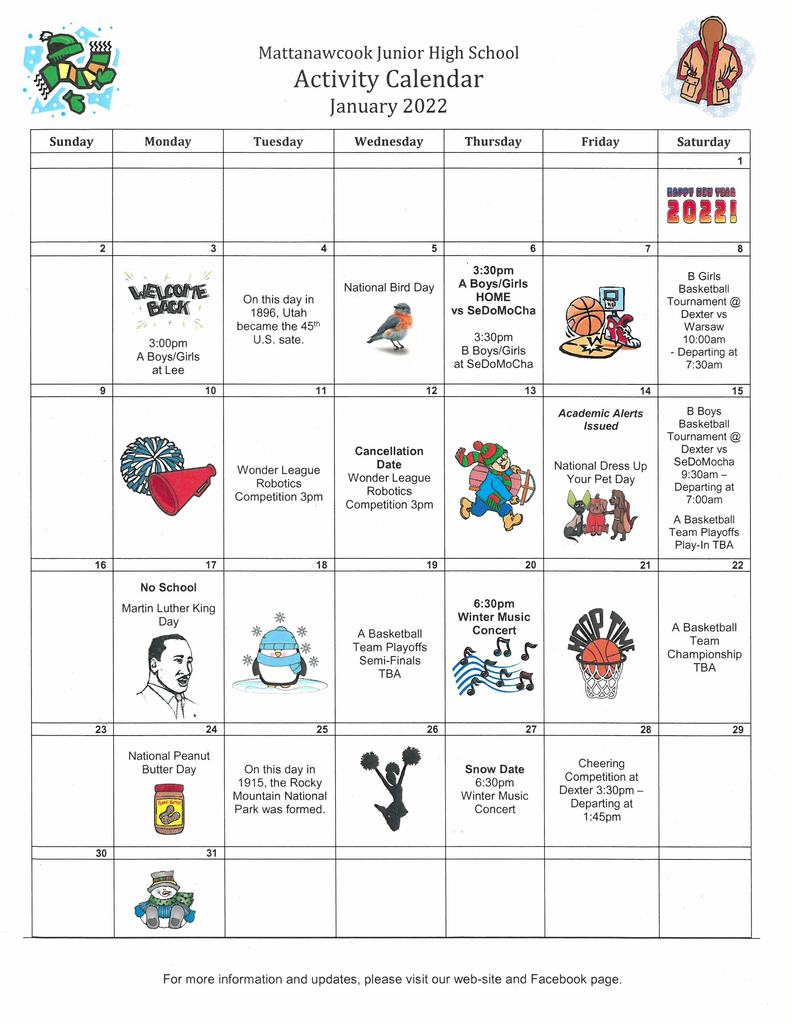 Here is the breakfast and lunch menu for the month of January. Your student(s) will be sent home with a hard copy of these menus today.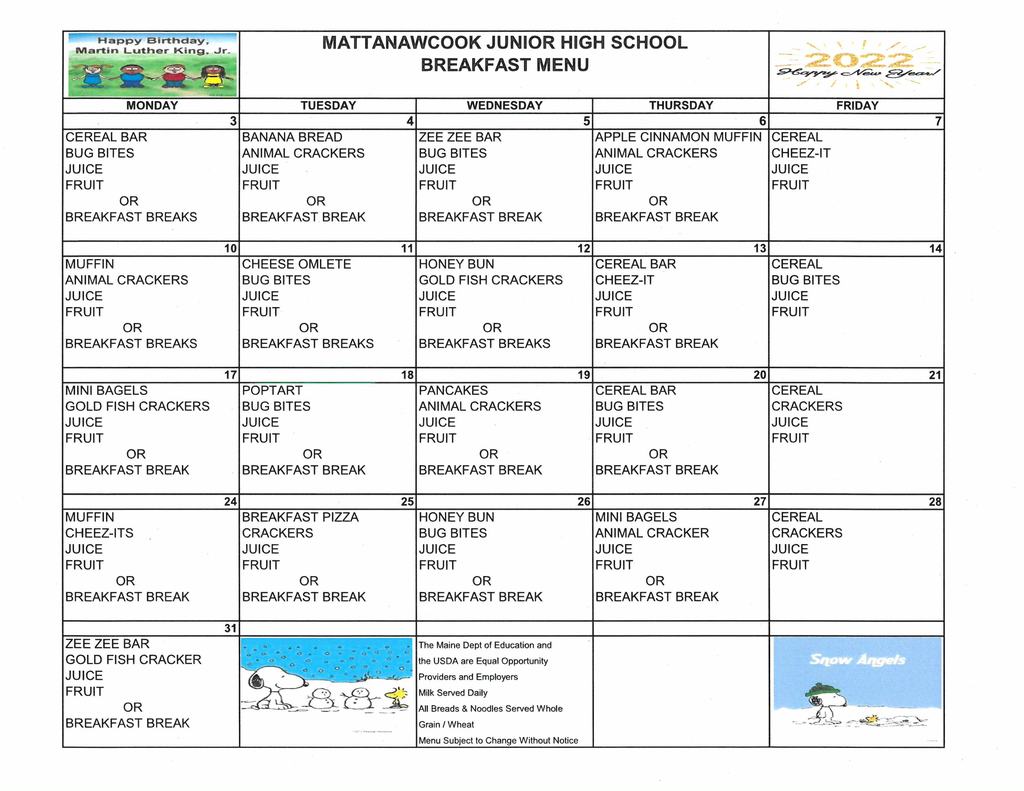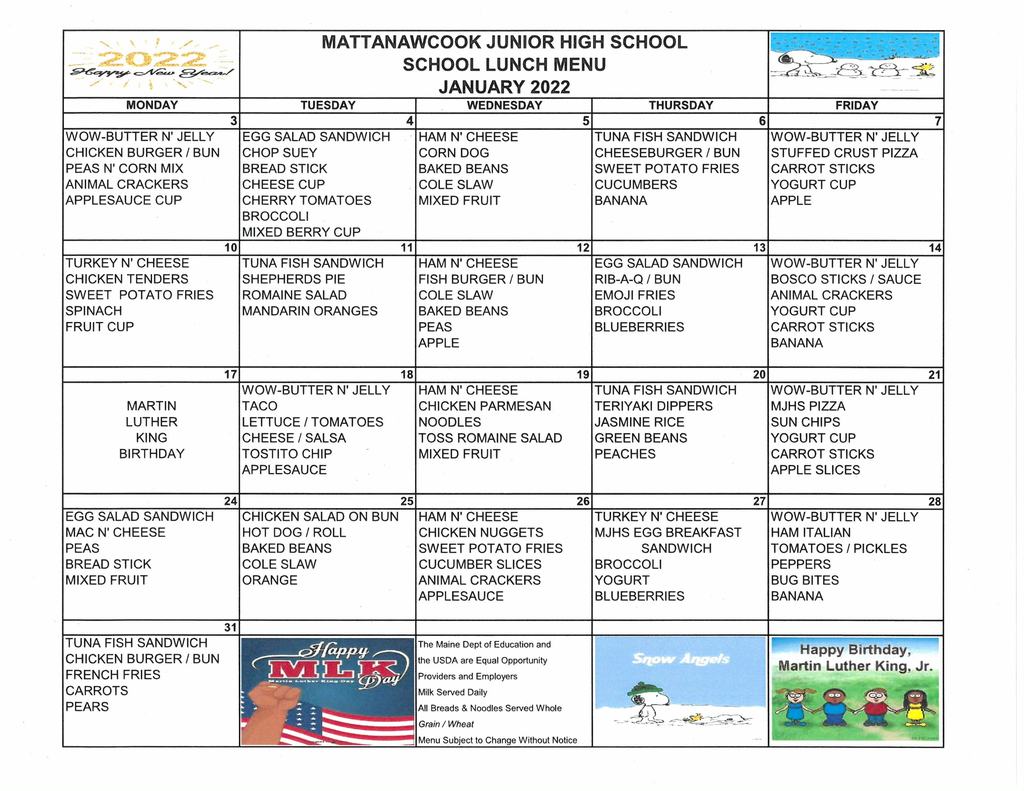 Just a reminder that the start times for Monday, January 3rd's MJHS boys and girls A team basketball games at Mt. Jefferson have been moved up to 3:00 (boys) and 4:15 (girls)