Yesterday the MJHS Football Team travelled to Dexter and improved to 3-0 on the season. The offense struck first and was extremely efficient, scoring on every possession in the first half en route to a 34-7 victory. They were led by great blocking from Eric Ayotte, Ethan Pelkey, Reed McIntyre, Cooper Jordan, and Maddox Arthers. A balanced running attack was led by Bennett Libbey, Bennett Harper who had a rushing touchdown, Landon Krawietz, who also had a rushing touchdown, and Ryan Thibodeau's 2 offensive touchdowns. Jordan also converted 2 PAT kicks to round out the scoring. Defensively the Bobcats played very well, stopping Dexter on several 4th down plays and forcing them to punt on 4th and long. The defense was led by Ethan Pelkey, Tyler Smith, Gabe Fiske, Krawietz and Thibodeau who scored a TD on a scoop and run. GO BOBCATS!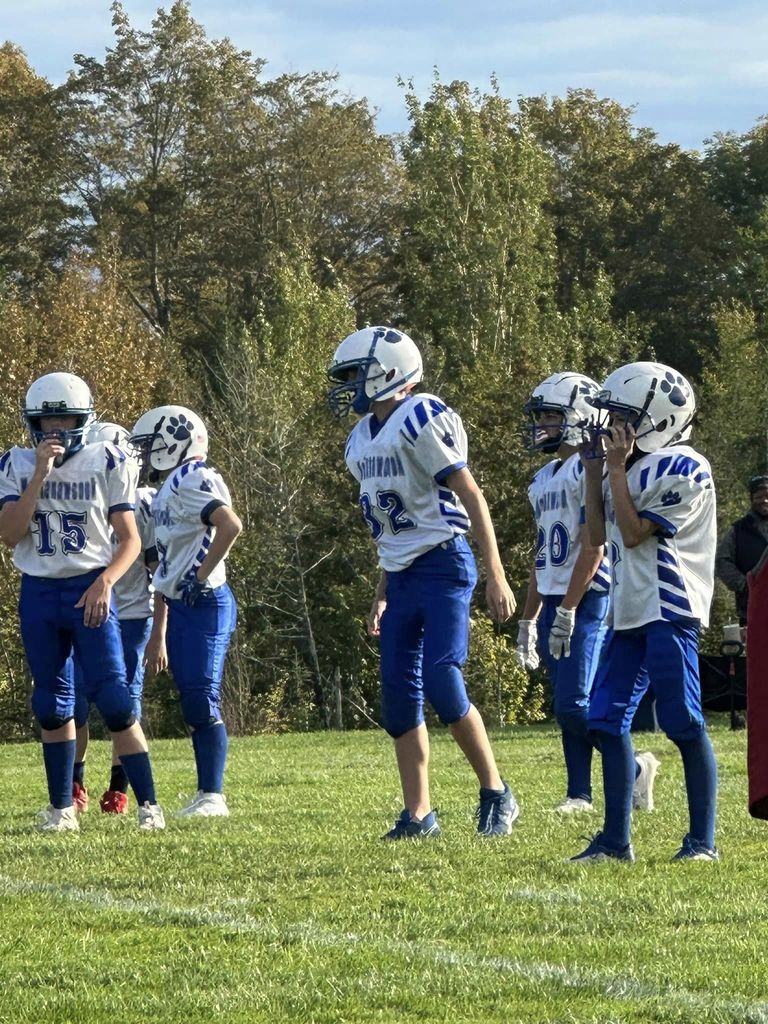 Today's soccer games vs. Warsaw have been rescheduled for 9/29. The boys will play at 3:30 followed by the girls at approximately 4:45. GO BOBCATS!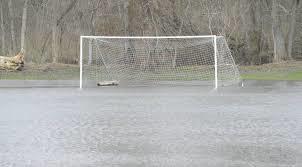 The 6th grade MOEP field trip for Mrs. Burns and Mrs. Moon's homerooms has been rescheduled for the next available date, Wednesday, October 11th. Students will be bringing home new permission slips this week, and we hope the weather will be better in October.

Boy's soccer practice and football practice are cancelled for today, 9/18. GO BOBCATS!

Due to transportation issues for Ridge View, the soccer games scheduled with Ridge View today, 9/18, have been rescheduled for 9/27. The girls will play at 3:30, followed by the boys at 4:45. GO BOBCATS!

The MJHS Girl's Cross Country team also hosted LMS, Medway and Hermon for a 1.92 mile course at MA. Overall the Cats earned first place! Laila MacDonald paced the girl's team by finishing in third place with a time of 16:02. Justine Thompson finished fifth in 18:27, followed by Isla Albert(7th, 18:46), Emily Oldenburgh(8th, 18:46), and Tenley Oliver(10th, 19:42) to round out the top 10. Harmony Wright(21:17), Bree Hunington(23:35) and Kahlila Clapp(24:36) all finished with strong times to round out the scoring for MJHS. GO BOBCATS!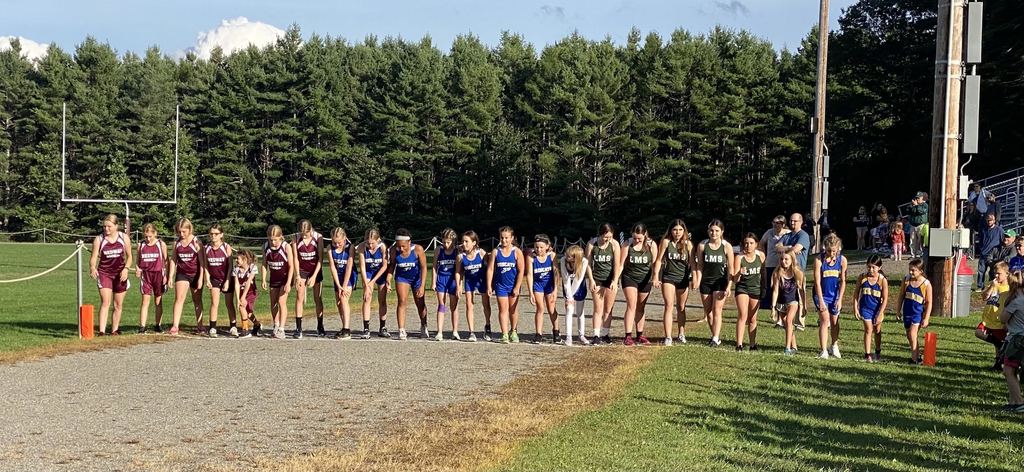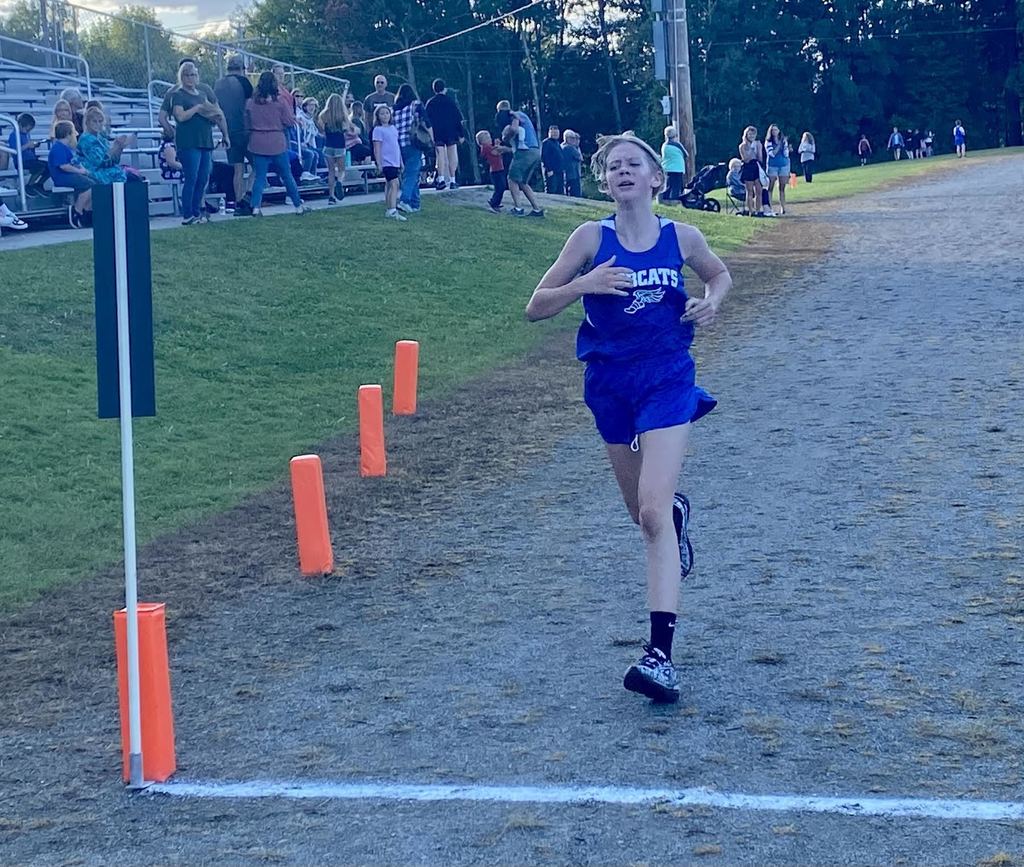 MJHS hosted Lincoln Middle School, Medway, and Hermon for a cross country meet at Mattanawcook Academy featuring a 1.92 mile course. The Bobcats boy's team finished in second place, just behind Hermon. Brady Cox paced the Cats by finishing first place with a blazing time of 12:45! Second place for the meet went to Carter Cox, who's time was 14:15. Also running hard and completing the course for the Bobcats were Colby Thompson(19:56), Steven Burns(20:41), Ashton Osnoe(22:34) and Camden Chambers(27:34). GO BOBCATS!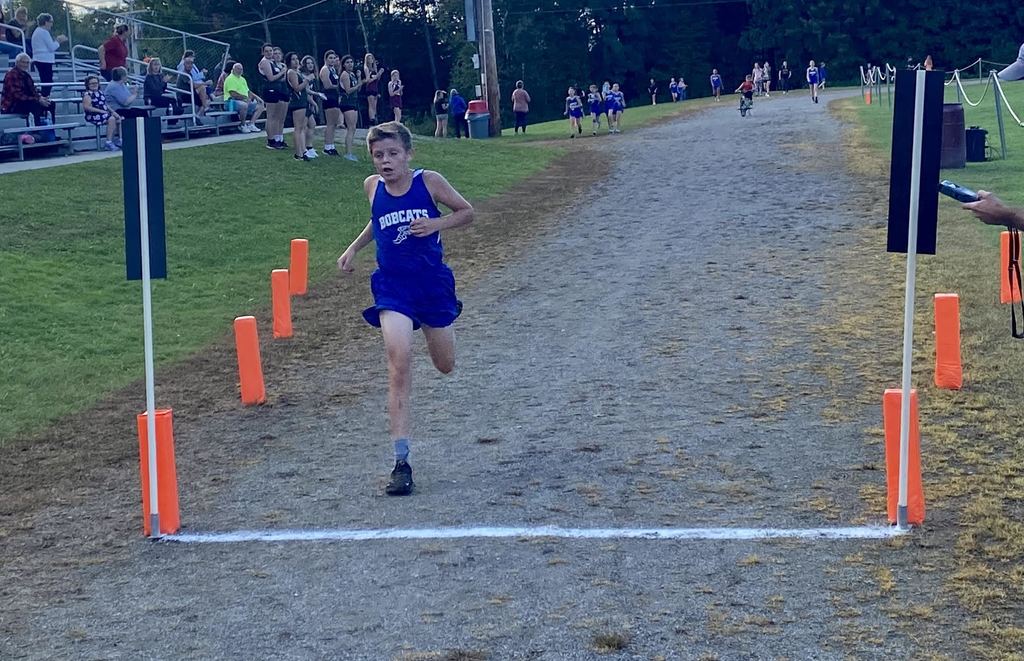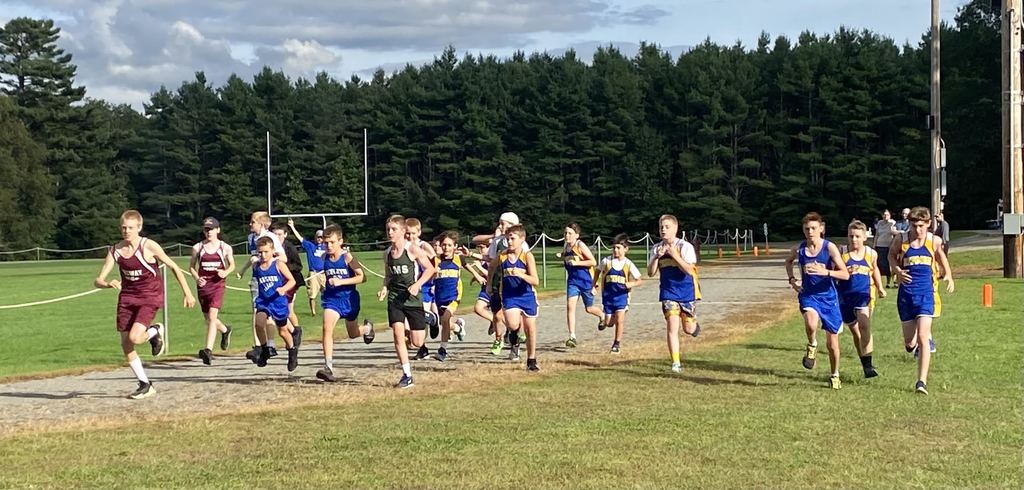 Next Thursday, September 21, is sports picture day. Picture forms will be distributed to the teams on Monday. Photos will be taken during the school day, so make sure your student athlete brings their uniform to school. Please email
jweatherbee@rsu67.org
with any questions.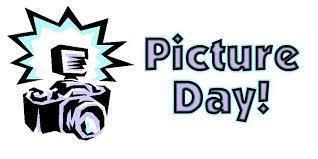 The MJHS Football Team played their home opener against a tough Bucksport team. The Bobcats gained momentum early and never looked back, coming out with a 20-0 win to improve to 2 and 0. The offense was efficient all night with a balanced attack led by Ryan Thibodeau, who had 2 touchdown runs and a conversion, Quarterback Wyatt Keegan, Cam Thompson, who ran a kick back for a touchdown, and Ashton Dill, who scored on a conversion. The defense was once again stifling all game, flying to the ball and tackling well in space. The secondary stepped up and made plays consistently and was led by Gabe Fiske, Tyler Smith, and Ryan Thibodeau. Cooper Jordan, Eric Ayotte, Maddox Arthers, Gabe Lazore and Trent Lyons all pitched in defensively as well. Great team win Bobcats! GO BOBCATS!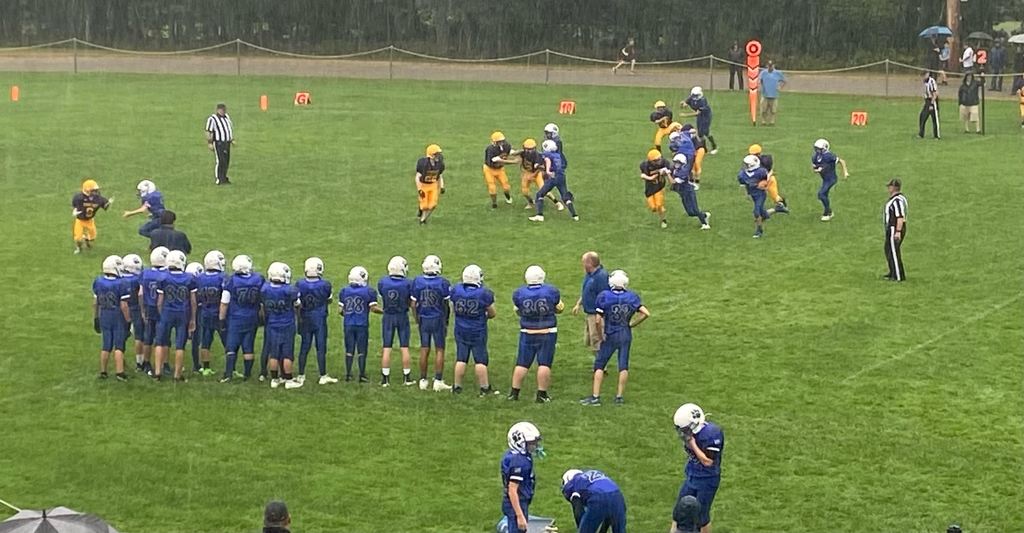 The boys soccer team endured a hard fought loss to Sedemocha Tuesday night 2-0. The Bobcats held Sedomocha scoreless until about 16 minutes left to go in the game when they scored two goals back to back. London Landry played an amazing game in the goal, considering the wet and rainy conditions, stopping two penalty kicks and countless other shot attempts. A great defensive effort was led by Blake Cloukey, Phillip Bryant, Jakobe Hodsdon, and Brady Cox. Our offense showed some great improvement working the ball up the field displaying some great through passes to set our striker up for a shot attempt. The Bobcats only had one sub for this game so a majority of the players never got a break but they never stopped hustling. They left it all on the field and are ready for round 2 with Sedomocha at home! GO BOBCATS!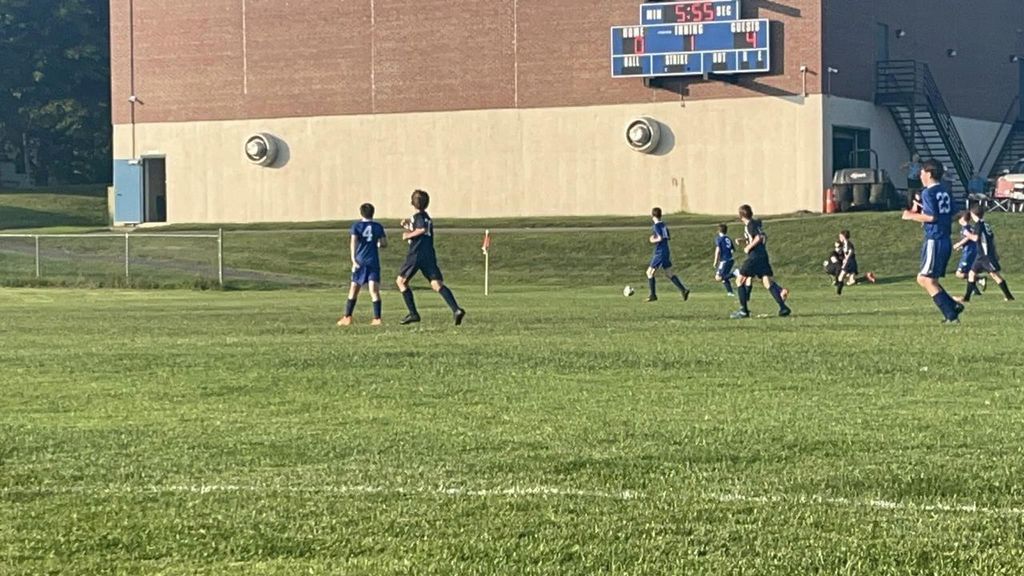 The girls soccer team defeated Sedomocha last night 5 to 3 for their first win of the season. Natalie Cloukey opened up the scoring by firing one off her left foot to the corner of the net off a Kalista Lazo cross. Rylee Cyr, Dylanie Landry, Lazo and NCloukey all worked together to create many scoring opportunities by continuously passing and crossing the ball. Vanessa Morse scored next with a deep and hard shot to the right upper corner to make it 2-0. Even with the opponent's strong 5 forward line, defenders Bella Kronholm, Ryleigh Springer, Bree Skidmore, Gwen Melvin and Izzy Morin in goal, the Bobcats were able to stop their forwards and keep the score in our favor for most of the first half. Cloukey scored again off a rebound in front of the goal to put the Bobcats in the lead. Sedomocha put in a quick goal before the half ended and the game was 3 to 1 at halftime. During the second half, Hope Grey, Tiawna Rich and Lazo stepped up their defensive efforts and helped stop the opponent's runs. Morse scored again with a deep shot outside the 18 yard line. Sedomocha snuck in two quick goals to tie up the game. Morse scored again to complete the hat trick off a perfectly placed corner kick that deflected off a defender to bring the score to 5 to 3. The girls were able to hold onto the win. GO BOBCATS!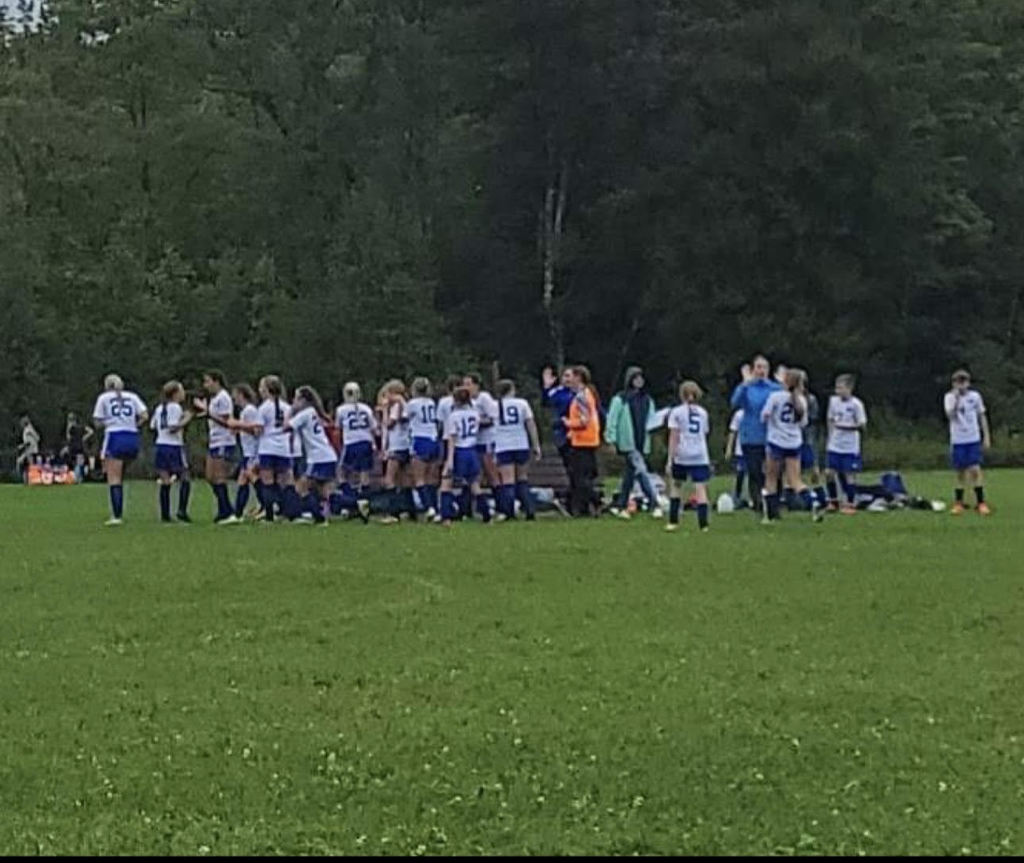 The girl's and boy's soccer games at Sedomocha are on as scheduled today. GO BOBCATS!

The golf match scheduled for today, 9/12, has been postponed. Rescheduling details will be available soon. GO BOBCATS!

The football team will practice in the gym today, 9/12, from 2:45-4.

The girls soccer team traveled to Warsaw middle school on Friday and played a hard-fought game. The first half the girls dominated the game with consistent passing and possession of the ball which was a great improvement from the first game of the season. Vanessa Morse scored first for the Bobcats off a pass from Rylee Cyr. Rylee Cyr then scored before halftime assisted by Natalie Cloukey. Teamwork by Tiawna Rich, Bella Kronholm, Dylanie Landry and Ryleigh Springer helped to propel the ball forward to the offensive players to score. Vanessa Morse opened up the scoring in the second half after winning the ball off the opponents goal kick to score the teams third goal. Elsie Fullerton, Khloe Maris and Hope Gray did a great job covering the midfield and Leah Stevens helped to aid the defensive line. The game ended in a tie when the opposing team sent a deep kick in from a distance out with only 1 minute remaining. The girls showed incredible improvement and should be proud of their efforts.

For MJHS golf, Jacoby Crosby earned top honors at JW Parks in Pittsfield on Tuesday. Jacoby's consistent game prevailed against several quality golfers. JW Parks course superintendent commented on how impressed he was with MJHS's team and looked forward to hosting us again. Way to go MJHS golfers! Other MJHS golfers competing during the match were Grant McIntyre, Cody Wilcox, Tanner Edwards, Isabel Graham and Michaela Windsor-Stone. Additionally, Michael Wortman, Scott Morin, Dustin Hanscom, Arya Atwood, Grayson Del La Cruz, Eric Arthurs, and Sean McNeil competed in a best ball format. GO BOBCATS!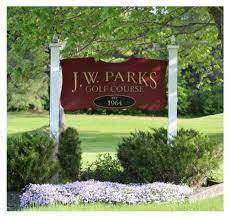 We'd like to thank families and students for your cooperation with our new drop-off location. So far the process appears to be working well, and we have received positive feedback. We have asked students to use the designated walkway that continues from Lakeview Street along the fence through the parking lot and to the entrance closest to drop-off (and the front walkway). Feel free to call the school, 794-8935, with any questions or concerns.

The Bobcats football team travelled to Ellsworth this evening to kick off their season. MJHS came away with the exciting 13-6 victory. What a great day; GO BOBCATS!


With temperatures in the high 80s today and throughout the week, please ensure that your student athlete is properly hydrated and brings plenty of water to practices and games. Our coaches will ensure that they are taking frequent water and shade breaks.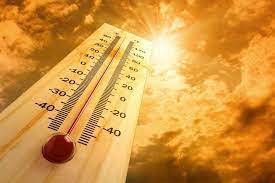 There has been a question about MJHS 4th graders being able to ride busses to and from school, and we want to clarify the procedure regarding student transportation. Fourth graders are not considered walkers unless they are in very close proximity to the school and there is agreement with the parents that they may walk.