Congratulations the the MJHS girls soccer team on their semi-final win yesterday vs. Warsaw! We will host Central in the championship game on Saturday, 10/23 at 11 AM.
MJHS boys and girls soccer will practice together today and the practice will be from 2:45-3:30.
Here is the latest information for the MJHS soccer playoffs on Wednesday, 10/20. The MJHS Girls Soccer team will host Warsaw at 3:30 on Wednesday. The MJHS Boys Soccer team will play at Central at 4:15 and the bus departs at 2:30.
Congratulations to the MJHS boys soccer team on their 9-4 win over Ridge View tonight!! The next game will be on Wednesday, 10/20 at Central. The time is TBD.
Just a reminder that the MJHS boys soccer team is playing their playoff game today at Dexter. The game begins at 3:30 and the bus leaves at 1:15 today.
There will be no junior high football practice today (Thursday, 10/14)
MJHS boys soccer will play their preliminary round playoff game at Dexter on Friday, October 15th at 3:30. If they win they will play again on Wednesday 10/20. The MJHS girls soccer team got a first round by and will play their semi-final game on Wednesday 10/20.
Congratulations to the MJHS Golf Team on their championship performance today at Barnes Brook. Way to go Bobcats!! Andrew Oliver, Avery Jordan, True Weatherbee, Jakoby Savage and Noah Phelps shot a combined 227 to win by 6 strokes.
There has been a lunch menu change for Wednesday, October 13th - egg salad sandwich or chef shaker salad, bread stick, toss salad - romaine and blueberries.
Today's MJHS Girls B Soccer game will be played near the baseball field in Bucksport. The best address to use is 74 Elm Street, Bucksport ME.
Today's MJHS football game vs. Orono has been postponed until tomorrow, Thursday, October 7th at 4:30.
Today's MJHS girls soccer game vs. Dover will start at 3:45. The boys game will be played after the first game is finished.
Here is the activity calendar for the month of October! Please understand there may be changes due to availability, etc. We will update you as soon as possible if something is to change.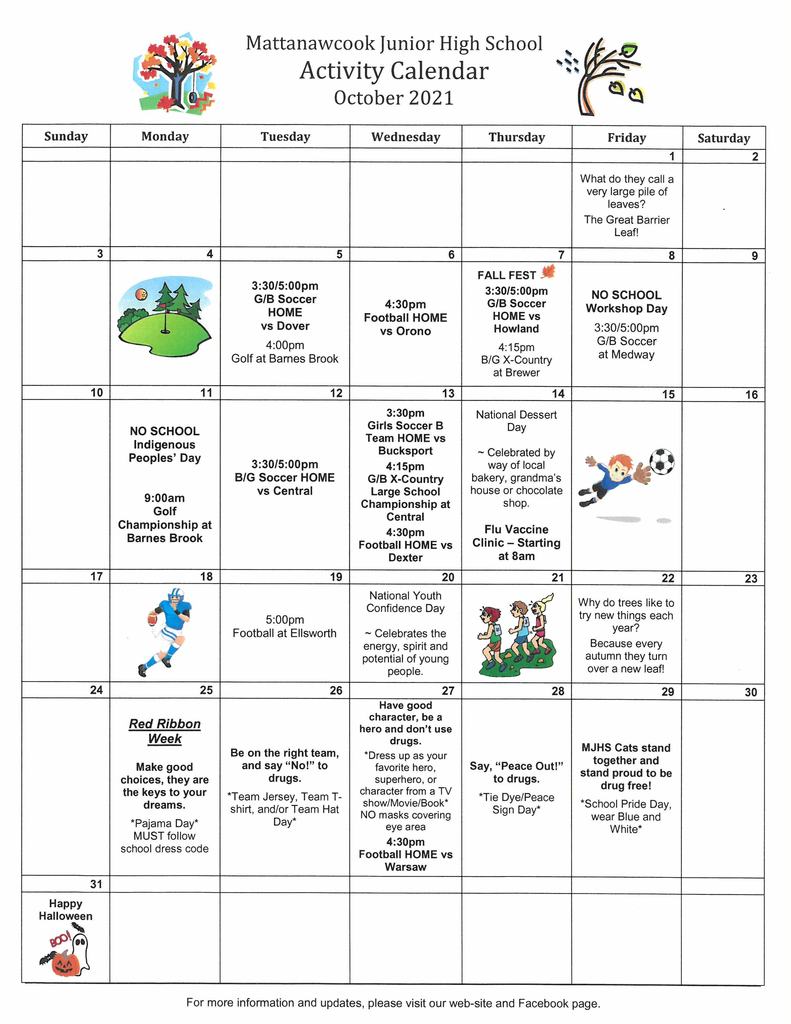 Here is the breakfast and lunch menu for the month of October!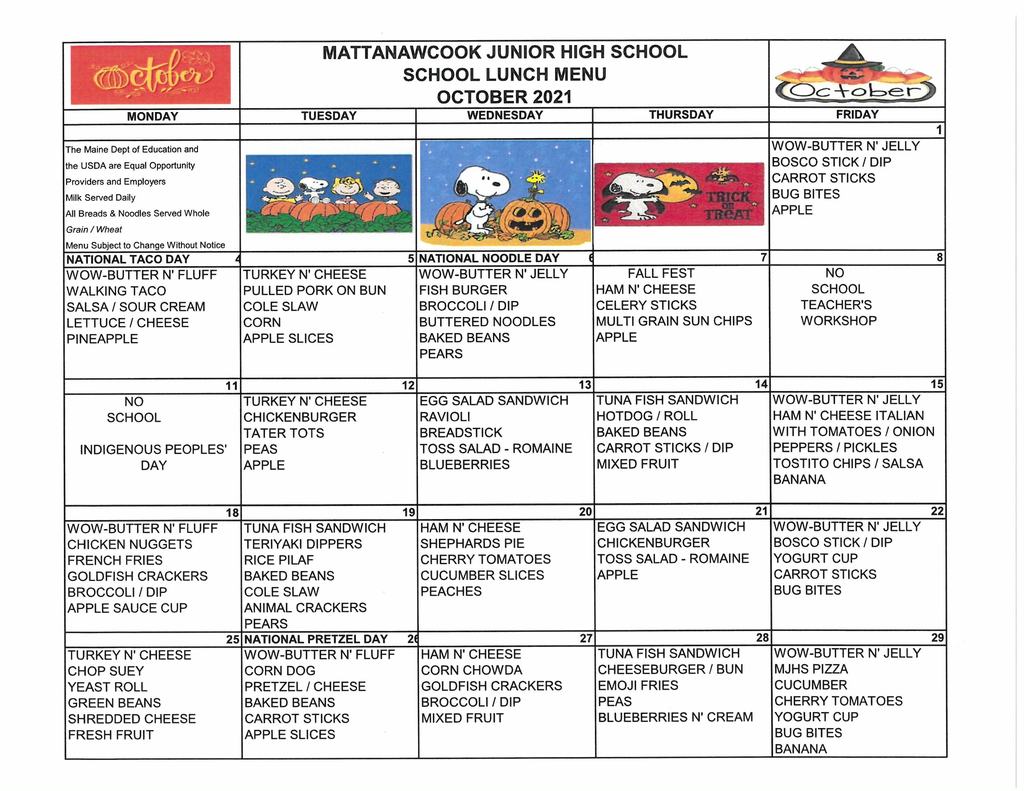 The Lincoln Fire Department responded to a fire alarm at MJHS today at about 11:30am. All students and staff were safely out of the building before the fire department arrived. The fire department cleared the building, and now students have returned to class.

Thursday, Sept. 23 at 6 pm is instrument rental night at MJHS. If your child is interested in playing a band instrument, you will have the opportunity to purchase books, music stands and/or rent instruments or have an instrument from home "checked out". Please contact Miss Kinkade (
nkinkade@rsu67.org
) with any questions. We will be meeting OUTSIDE under the tent by the tennis court.
Wednesday's MJHS football game vs. Bucksport has been cancelled. MJHS will be playing at Dexter on Thursday, September 23rd at 4:30 instead.
Yesterday's soccer games vs. Lee have been rescheduled for Thursday, September 23rd at 3:30/5:00. Girls play first, boys second.
Today's Golf Match at Warsaw has been postponed. Today's soccer games with Mt. Jefferson have been postponed. There is no makeup information at this time. All practices have been cancelled today as well.
Tomorrow's JH Football scrimmage at Old Town will be played behind the Orono/Old Town YMCA, not at Old Town High School.