As of today, MA athletics has been suspended until further notice, no practices or games.


Good Morning, Just a reminder that winter athletics will resume on Monday, January 11th. We will being practices as scheduled. Just a reminder that all participants should arrive ready to practice. Please do not arrive early, as we are following CBC guidelines regarding gatherings. Face masks must be worn at all times. Masks can be removed for hydration breaks as long as athletes remain socially distanced. It is important that if you are a remote learner that you are attending school the day of practice. If you are marked absent then you will not be able to practice. In closing, I would like to thank you all for the patience that you have exhibited during these challenging times.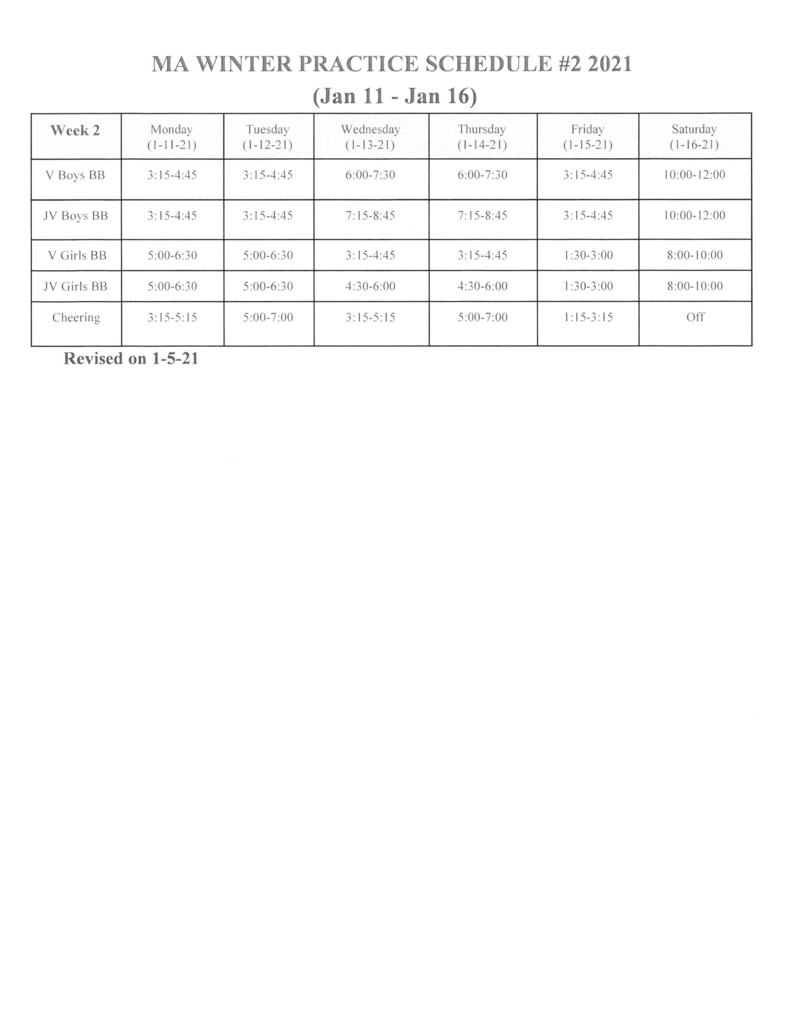 As a result of today's decision to go remote, all RSU 67 athletic activities will be suspended until January 11th. Therefore there will be no practices today. All practices that were scheduled during vacation have been cancelled as well. Please understand that the safety of our student athletes, their families and our staff is our top priority. As always, thanks for being so patient as we navigate through the challenges of these very difficult times. Be safe and Happy Holidays to you all!!!

Winter Athletics will begin at MA on Monday, December 14th.. Just a reminder that masks must be worn by athletes and staff at all times. Obviously masks may be removed to hydrate, athletes must socially distance( 6 feet apart) during hydration breaks.

Please see the attached three week practice schedule for MA athletics, December 14th through January 2nd.

Due to restrictions from COVID-19, this year's Festival of Trees for Mattanawcook Academy's Senior class of 2021 will be held virtually from December 4 to December 13, and the winners will be drawn and announced on December 14. Documents and links can be found in the attachments below, including pictures and descriptions of each tree. Payments will be received using PayPal. Tickets will be sold for $1 each, and any amount of tickets may be purchased and placed virtually with the tree(s) of your choice. We would like to thank all businesses in our community who participated as well as those who made the best effort they could. In addition, we would like to thank all community members who participate in this raffle to support Mattanawcook Academy's Senior Class of 2021. Please click on the link below to access the Festival of Trees Document
https://docs.google.com/document/d/1NrTfCygBsWtXPHRsTYTlg6zbnB0AqsA22cRn9KG9Y7Q/edit

The online registration link for winter sports is now available on the MA athletic page. Please sign your student athletes up now. You are required to register for a winter sport even though you registered for a sport in the fall. Pending board approval we will begin winter sports on December 7th. I have attached the Family ID registration the link for your convenience:
https://www.familyid.com/organizations/mattanawcook-rsu-no-67

REMOTE PACKET PICKUP! Families of MA students can pick up student packet's on Monday, November 30th from 8 am to 3 pm. Please call 794-6711 with any questions.


Congratulations to the following MA Lady Lynx soccer players. Esther Susen, Lexi Thompson, Ereka Laduke and Bella Farrington were all named to the All Conference teams for this past fall. Great job representing your school this past fall. Certainly a well deserved honor.

The online registration link for winter sports is now available on the MA athletic page. Please sign your student athletes up now. You are required to register for a winter sport even though you registered for a sport in the fall. Thank you!

The MA Lady Lynx soccer team will travel to East Millinocket on Thursday to take on the Schenck girls in a semi- final matchup. The game will be played at 3:00. The game will be streamed on the Schenck Athletic Facebook Page. The bus will depart for East Millinocket at 1:45.

The MA girls soccer game vs Schenck is on as scheduled. The game will begin at 4:00, you can view the game on Facebook live. The event will be created at 3:30 today, simply log into the RSU 67 athletic page to enjoy the game.

Due to the predicted weather, all after school athletic activities are canceled today, Friday October, 16th. Have a great weekend!

Congratulations to the MA Lady Lynx soccer team as they defeated the PVHS Howlers by a 2-1 margin on Thursday afternoon. The game vs the undefeated Howlers and the 3-2 Lady Lynx was played at Lovett field in Howland. The game remained scoreless through the first half. Early in the 2nd half Senior Esther Susen scored to put the Lynx on the board . Soon thereafter junior Bella Farrington doubled the Lynx lead when she booted one by PVHS goalie Emily Ireland. The Howlers Emma Buck scored on a penalty kick to cut the lead in half. The Lynx defense determined to escape with the victory stiffened and the Lady Lynx earned the hard fought victory. Way to go Lady Lynx

The MA boys and girls soccer practices scheduled for Friday will begin at 1:15 and conclude at 2:45. If it rains a decision will be made by 10:00 as to whether we will practice or not.


Due to a predicted rain event, the MA girl's soccer game scheduled for 11:00 at Lee on Saturday, October 17th has been rescheduled. We will make up the game on Monday, October 19th, at 4:00. The bus will depart MA at 2:45

Revised practice and game schedules have been added to the Mattanawcook Academy Athletic Page